The Google Play store is a wondrous place where you can download and install apps on your mobile device. These apps range from productivity tools to games and everything in-between. However there is a dark-side to the Google Play store and it comes in the form of malicious apps (viruses/malware) that can hijack your phone and potentially steal your data.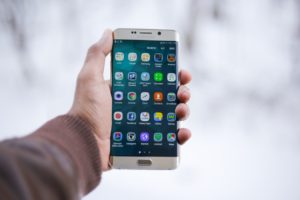 According to articles posted on McAfee.com & BleepingComputer.com, security researchers have recently discovered a new type of malware called Grabos, that is hidden inside of Google Play apps. This new malware masquerades as an audio player or MP3 file downloader. Once on your device, the app will either begin downloading files in the background or you will be shown notifications that will ask for your permission to download and install other applications from the Play Store. The apps that are downloaded may contain other malware that will then infect your mobile device and can perform other malicious actions.
Below is a list of names of apps known to contain this malware:
Aristotle Music Audio Player 2017
Free Music MP3 Player
Free MP3 Music Download Player
Quick MP3 Music Player
Sound/Music Volume Meter
Free Music MP3 Download Player
Free MP3Music Download Player
Tube MP3 Music Player
Volume Control for Music
Music Album Sorter
Song Player
Call Saver/Downloader
Simple Heating Test
Free MP3 Music Download Player
Great MP3 Music Player
Free MP3Music Player
Afro MP3 Music Player
MP3 Music Download Player
File Manager for Music
Media Player
Free MP3 Music Download Player
Audio Recorder
MP3 Music Downloader
Free MP3 Music Downloader Player
MP3 Music Player
Album Manager for MP3 Music
MP3 Music Player
Tube MP3 Music Player
Music Player
If you have one of these apps on your mobile device, please remove it immediately. It is also recommended that you change the passwords to any accounts that you have accessed from the device, especially those related to online banking or other financial accounts. If you have any questions or concerns, feel free to contact one of our friendly IT support technicians at (920) 569-2681. Total Computing Solutions has been serving the IT related needs of small business and individuals in the local Green Bay / De Pere WI area since 1998.