Due to the recent events regards social distancing and "safer at home" orders, more and more workplaces need to find solutions for Remote Work to keep their businesses running and their associates healthy.  Mandatory "Work from Home" orders are in effect across the country due to COVID 19 (aka Coronavirus).  Are you concerned about the safety, privacy and integrity of the information that you and your associates need to share?  You should be concerned, as hackers are taking advantage of companies that have taken a relaxed approach to the new virtual workplace. But look no further, setting up secure private remote access systems has long been one of our specialties at Total Computing Solutions.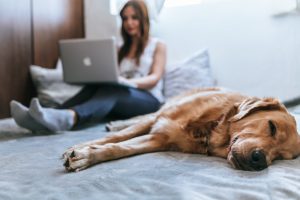 What do we offer?  We would setup a VPN (Virtual Private Network) system so that people can access their work computers and files from home all the time, in a very secure and safe manner.  We can setup anything from a one-off solution to allow a single person to temporarily access the server at work, or perhaps you require a more robust solution that allows every employee in a company to be able to work from anywhere that they have access to a functional web browser and an internet connection.  It is just as if they were sitting in the office, with total convenience and safety in mind.
At Total Computing Solutions, one of the major things we emphasize and pride ourselves on is that we setup remote access properly and with utmost security.  We utilize secure self-hosted technologies that don't require our Remote Work clients to compromise their security and privacy.  We do not advocate the use of third-party hosted remote access systems, which are typically sold as a subscription service on a monthly or annual basis, as such solutions are inherently less secure and many of the popular companies offering these services have questionable track records and reputations with respect to privacy and security.  The protection of your information, and that of your customers is very important and it is imperative to provide the best security for this data, regardless of where your team is working.
In the vast majority of cases, we would be able to setup whatever a company may need in terms of remote access, via remote support, and in a "No Contact" method.  Most of our clients have been setup for Remote Work exclusively over phone and computer, we can do nearly anything virtually rather than face to face. In keeping with the current safety policies regarding COVID 19, we are currently restricting the availability of on-site and in-store services to emergencies for "essential businesses" only (i.e. health care facilities, grocery services, etc.)
Total Computing Solutions is your partner in internet security and privacy for your company. We are here to prevent operational interruptions that can lead to extended periods of downtime if you're not prepared. Total Computing Solutions understands how detrimental these issues can be to your company's reputation, productivity, and bottom line. That's why it's so important to make sure you have a business continuity plan that ensures minimal downtime, and keeps your associates connected with our Remote Work Solutions.